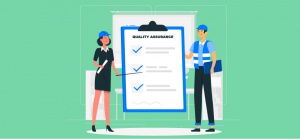 Internally developed QA tool to give you peace of mind
June 9, 2020
Quality Assurance (QA) is an important step before translated documents are delivered to the client. Consisting of careful and close examinations, this step requires our QA specialists to eliminate any typographical errors that would detract from our high quality.
The QA tool proudly developed by INTLINGO Group internally plays an indispensable role in the process of QA. It is highly effective in checking numbers, format, punctuation, simplified/traditional Chinese characters conversion and many more by showing any issues discovered and offering suggestions for them, so as to reduce the possibility of overlooking to a vanishing point.
In addition, our QA tool can help examine proper nouns and sentences that appears more than once. By sorting out and aggregating in a separate panel how the nouns and sentences are rendered in the translation, our QA specialists can conveniently sweep over the list and align them where needed to ensure consistency throughout the document.
The tool also distinguishes itself with a unique feature that imports and checks expressions against glossaries provided by the clients. Any discrepancies with the glossaries are flagged up and corrected to ensure your choice of words is followed.
The INTLINGO Group is committed to optimizing the quality of our translation. We leverage our own unique and powerful QA tool to keep our deliverables typographically error-free, consistent within themselves and with your glossaries. Rest assured that our high quality is never compromised even with the tiniest detail.